Get Rid Of Knee Pain With Physiotherapy Tips and Techniques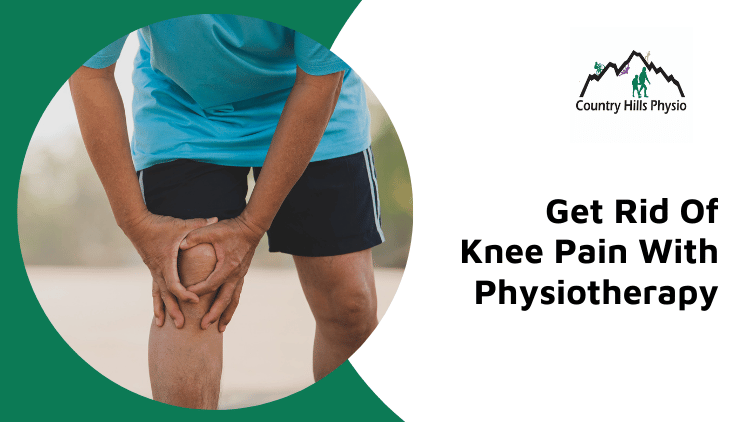 Knee pain can be a very frustrating experience  -- especially if you're dealing with regular desk work. If you invest several hours a day working at a desk, climbing stairs, or running around playing sports, knee discomfort is likely to creep up on you sooner than later. 
Fortunately, there are numerous ways to reduce the reasons behind knee pain and deal with it when it does appear. An experienced physiotherapist can customize a tailored therapy plan for you that targets the source of your discomfort and decreases its reappearance. In this blog post, we share some ideas on exactly how to get rid of knee pain finally.
What exactly is a physiotherapist? And also what can they do for me? Primarily, they are healthcare experts who focus on dealing with people who have experienced an injury or stress somewhere in their body-- like your knees! A physiotherapist will have substantial training and experience in aiding individuals to recoup from injuries or pressures. They can be licensed in particular areas that make them even more qualified than doctors to treat those conditions. Basically: if you want assistance taking care of knee pain, see a physiotherapist!
Physiotherapy For Knee Pain And Knee Injuries
Physiotherapy is the perfect treatment approach for taking care of knee discomfort and also injuries. It enables you to treat your problem in a focused and efficient way, without the demand for medicine or surgery. 
According to research, physical rehabilitation gives greater benefits than self-management for individuals with knee joint inflammation. Physiotherapy provides a special combination of physical therapy treatments and exercises that can help you reduce discomfort, regain mobility, and return to daily activities as soon as possible. While numerous therapies are focused on pain relief, they can likewise be utilized to deal with the underlying reasons for knee pain.
A Wide Variety of Common Conditions Leading to Knee Pain Includes:
Joint pain caused by joint issues

Acute knee injury

Muscle tension

Connective tissue problems

Body misalignment

Knee replacement

Arthritis pain

Accident injury

Knee cartilage injuries

Problem with knee tissues

Common sports injuries

Chronic injury

Chronic muscle strain

Other knee issues
Stretching Workouts
Stretching is a must-do when managing knee discomfort-- and it's much more crucial if you're recovering from an injury. Studies reveal that individuals that extend consistently have reduced discomfort and boosted versatility compared to those that do not stretch in any way. There are 2 main types of stretches you can do to reduce knee discomfort: passive and active, your physiotherapist can recommend the best ones for your distinct condition.
Passive stretching involves holding your muscles in an extended posture for 30 secs. You should feel a gentle stretch in your muscle mass, yet no real pain. An active stretching consists of relocating your muscle mass through a variety of motions over a while. You ought to feel a raised stretch in your muscle mass, together with a small pull. Both kinds of stretches have their benefits, yet active stretches are specifically beneficial for knee discomfort. They can help you to loosen up stiff joints, boost your overall flexibility, and boost the joint's range of motion.
Boosting Exercises
While stretching is important for improving knee pain, enhancing the surrounding muscles is essential for long-lasting relief from the discomfort. Strong muscle mass gives stability and also assistance to your joints, helping them to execute better and also reducing the likelihood of pain and injuries from recurring. According to a review of research studies, a mix of cardio exercises and strengthening workouts is the most effective means of handling knee discomfort. 
Low-impact workouts such as swimming, cycling, etc., are wonderful for strengthening muscular tissues without straining your knees. Once again, your physiotherapist can instruct you on the best exercises to strengthen your knee muscles.
If you have just recently endured an injury, you must stay clear of high-impact workouts such as running up until your knee has healed. Workouts to enhance your quadriceps (the muscles in the front of the knee) are one of the most reliable methods to reduce knee pain.
Dry Needling
Dry needling is a specific kind of acupuncture that is performed by placing very thin needles right into trigger points. Trigger points are little knots in your muscular tissue that cause pain and also decrease flexibility in the bordering location. Dry needling can be used to deal with all sorts of musculoskeletal conditions, consisting of knee pain. 
Research studies reveal that dry needling is equally as reliable as electrotherapy for treating knee osteoarthritis, with fewer adverse effects. Dry needling is often used as part of a diverse treatment strategy. It's not a stand-alone therapy-- though it can be reliable when integrated with various other treatments.
Acupuncture
Acupuncture is another therapy that is progressively being made use of to deal with knee pain. Like dry needling, acupuncture involves implanting small needles into the skin at certain points of the body. Study shows that acupuncture can reduce pain and enhance knee joint function in people dealing with knee injuries. Acupuncture has minimal to no side effects and is frequently used as a good alternative treatment for taking care of knee pain. It can also be utilized in combination with other treatments.
Knee Braces
If you suffer from regular knee discomfort, a knee brace is a great way to secure your knee as well as prevent injuries from returning. Knee braces come in a range of types and products, and also there are various kinds to choose from. A knee support can relieve knee discomfort and support the knee in individuals that are recuperating from an injury, have osteoarthritis, or have had a joint substitute.
Taping
Knee braces are often the first port of call for taking care of knee discomfort, yet many individuals have reservations about their use. Taping your knee is a much less intrusive way of managing the discomfort and can be just as efficient as a knee brace. 
Many research studies have shown that taping the knee can dramatically decrease knee discomfort and improve knee performance in individuals with knee osteoarthritis. It can be made use of alone or in a combination with various other treatments.
TENS machine
Transcutaneous Electric Nerve Stimulation (or TENS treatment) is a non-invasive treatment that can be made used to ease pain. TENS devices send out electrical pulses to the skin and stimulate the nerves. This lowers swelling and also aids discomfort. TENS equipment is often made use of for short-term discomfort relief, such as after an injury. Some research study shows that TENS equipment can be efficient at handling knee discomfort, though even more research is required to identify its long-lasting effects.
Last Thoughts
Knee pain can be a genuine pain in the butt, yet it does not need to be. By following a few basic tips, you can maintain your knee's health and keep it pain-free. And also if you do get knee discomfort, you can utilize these ideas to reduce the discomfort and also return to your daily tasks immediately. In other words: if you desire help dealing with your knees, see a physiotherapist at Country Hills Physiotherapy today! And remember: knee pain can be treated, so don't allow it to rule your life!